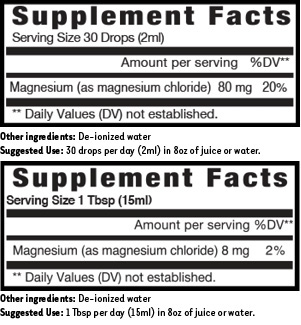 Magnesium plays an essential role in over 300 enzyme reactions in the human body. All refined foods are lacking Magnesium, as well as most other essential minerals. Most Americans eat a highly refined diet and are, as a result, deficient in Magnesium.
Some important functions of Magnesium are:
Regulates Calcium transport and deposition into bone

Necessary for tissue growth and development

Supports immune system health and function

A primary electrolyte along with Calcium, Potassium, Sodium and Chloride

Helps in the conduction of nerve impulses and the relaxation of muscle tissue
Calcium and Potassium stimulate muscle contraction - Magnesium makes muscles relax. This is very critical for heart function as the body needs ample stores of Magnesium to allow for proper heart muscle relaxation.
While Magnesium deficiency is fairly common, it is frequently overlooked as a source of metabolic malfunctions. The reason is that serum Magnesium levels (the test most doctors use) do not reflect actual body stores of Magnesium. Blood levels are kept within the normal range at the expense of other tissues.
Magnesium deficiency may occur because of:
Excessive loss of Magnesium through urine or sweat

Gastrointestinal upsets, which can cause a loss of Magnesium or limit

Magnesium absorption

A chronically low intake of Magnesium

Excessive stress, either physical, emotional, or environmental
Magnesium elimination is increased when using alcohol, caffeine, excessive sugar, diuretics, and birth control pills.
Supplementing with Magnesium helps to support:
Healthy blood sugar levels

Blood pressure regulation

Protein synthesis

The body to produce the antioxidant glutathione
Deficiency Indicators:

Confusion, disorientation, loss of appetite, nervousness, irritability, muscle contractions and cramps, tingling, numbness, headaches, and nervous twitches and tics.
Food High in Magnesium:

Almonds, spinach, chard, cashews, peanuts, pumpkin seeds, black beans, soybeans, avocado, potatoes, brown rice, yogurt, kidney beans, bananas, figs, and dark chocolate.
Eidon Liquid Minerals are All Natural, Highly Bioavailable and contain NO sugars, starch, artificial flavors, colors, preservatives or animal by-products. Vegan and Gluten-Free. Eidon uses the finest ingredients known to us in the formulation of our unique preparations. Out of respect for all life, we do not test - nor have we ever tested - our products on animals.
Obtaining the needed minerals via the food we eat is a chronic problem today. This is primarily due to our deficient soils and over processing and over cooking of our foods. Drinking ultra-purified water can also strip our body of these essential minerals. It is important to be aware of the fact that reverse osmosis and distilled water will actually act in reverse of what nature intended our water to do. Instead of being a mineral delivery system, the minerals are taken out of the water and this puts additional stress on the body tissue to compensate for the lack of minerals in the water. The minerals must then be taken from our healthy reserves in bone and muscle, thus leaving our system deficient and vulnerable. Replacement is essential!
Information on this site is provided for informational purposes and is not meant to substitute for the advice provided by your own physician or other medical professional. You should not use the information contained herein for diagnosing or treating a health problem or disease. If you have or suspect that you have a medical problem, contact your health care provider. Information and statements regarding dietary supplements have not been evaluated by the Food and Drug Administration and are not intended to diagnose, treat, cure, or prevent any disease.
Write Review
Showing reviews 1-15 of 36 | Next
Taste

Posted by T on 2nd Aug 2017

The taste is more bearable than the trace minerals formula and I have seen miraculous results even in this small of a dose. So, I would not rule it out.

Easy to use!

Posted by Sherrie on 27th Jul 2017

I love this product because I can use more or less as needed. The directions state 30 drops per day. I only use 6 to 10 drops per day this is the dose that works for me. Excellent product.

Vital mineral

Posted by G.M. on 27th Jul 2017

While sometimes it may not taste great in water or straight, just add it to your smoothie and viola! This is a much needed mineral that the majority of people are deficient in. It greatly reduces my muscle cramps.

(Originally posted on 07/26/2015)


This product is very easy to use.

Posted by Sage on 27th Jul 2017

As a person that runs a business at times it can be stressful. I find using this product helps greatly. I use it at night and I notice when it takes effect. Would recommend it to people that have stress in their lives.

Liquid magnesium

Posted by Randall H. on 27th Jul 2017

Used 3 bottles so far & it helps my heart rhythm to keep me out of afib. I will continue using. The best is liquid form because u put 30 drops in cool water or juice, I use half of each, and I hate swallowing issues with all pills, etc, and this really works.

Good Product

Posted by Jazz on 27th Jul 2017

Good for kidney stones.

Great way to increase magnesium, and easy too!

Posted by Matt on 27th Jul 2017

I use this for myself, and dilute it a lot more for my plants! We both love it! I can see mt plants thriving! But I think in ionic form it is more absorbable for humans!

(Originally posted on 03/06/2017)

Best product ever!

Posted by Conner on 27th Jul 2017

Very easily absorbed and easy to take.

Great product

Posted by Stewart on 27th Jul 2017

Great after workout

WOW!

Posted by A.C. on 27th Jul 2017

My husband and I both take the magnesium. He takes it for leg cramps that totally disappeared within 2 days, and I am taking it to strengthen my lungs after having a respiratory infection this past spring. We are both impressed with the quality and performance of this product!


Great oral magnesium chloride

Posted by Unknown on 27th Jul 2017

great product. comes from a mineral mine. quality testing ensures no lead, mercury or other heavy metals. beware of mag from Salt Lake, UT, because of mercury levels. from what i've read, mag chloride is one of the most bioavailable forms of mag. i use transdermal magnesium therapy, but don't always have time to let my skin absorb it, so its nice to have an oral option on busy days.

(Originally posted on 05/30/2012)

Very effective

Posted by Rebecca on 27th Jul 2017

I have used many magnesium products but this one seems very powerful even with a small amount. I works very well

(Originally posted on 05/20/2012)

Easy magnesium

Posted by Betty J on 27th Jul 2017

Great way to get magnesium and it seems to be working!

(Originally posted on 10/18/2011)

I'm balancing my minerals

Posted by Unknown on 27th Jul 2017

According to my hair mineral analysis (from their website), I'm taking this morning and evening. I can tell it is working.

(Originally posted on 07/31/2011)

Best source of Minerals

Posted by Faith on 26th Jul 2017

I love all of the Eidon Minerals. I can tell a difference when I don't take them. I prefer the larger bottles but these (2oz bottles) are great for travel.
Showing reviews 1-15 of 36 | Next