Mineral Blend - Electrolytes
Mineral Blend - Electrolytes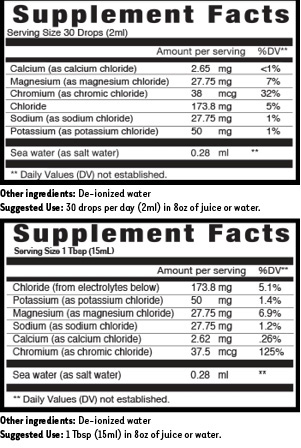 Electrolytes truly are the "Spark of life" as described in the book, "Electrolytes, the Spark of Life," by Gillian Martlew. While many of the known elements can be classified as Electrolytes, there are five elements recognized around the world as essential for maintaining a properly functioning electrical circuit within our body. They are:
Magnesium

Potassium

Sodium

Chloride

Calcium
These elements are necessary for:
Nerve conduction

Maintenance of cellular osmotic balance

Preservation of proper acid-base (pH) balance throughout the body
The electrical system encompasses our heart, brain, and nervous system. As such, it is absolutely essential that our cells be replete with these elements. Electrolytes carry electrical impulses from the brain to every part of the body to keep it in healthy balance.
There are numerous ways to become out of balance with these elements in everyday life:
Electrolytes are lost predominately through sweating when doing strenuous exercise. If their loss is not compensated for relatively quickly, the ability to continue with the exercise can become difficult or impossible and can have fatal consequences since Electrolytes are crucial for healthy heart function. Other activities that produce profuse sweating such as physical labor, yard work, or taking a sauna, create a need for Electrolyte replacement.
We may also become deficient in these essential minerals by high levels of emotional stress. Emotional stressors can come from worry, abuse, fear, and other factors, all of which require minerals to maintain our defenses.
Not only do we lose or use up a lot of essential Electrolytes on a day-to-day basis as noted above, but those who take prescription medications such as diuretics are at increased risk of depleting Electrolytes.
Excessive alcohol consumption rapidly depletes Electrolytes and imbalances our electrolyte equilibrium.
Finally, physical trauma activates the utilization and loss of essential electrolytes.
If the body suffers a severe physical trauma, Electrolytes are one of the first courses of actions implemented (by trained medical teams), usually in an IV solution. The objective of this procedure is to keep the individual's electrical system functioning so that the heart continues to beat rhythmically. This is accomplished by supplying the needed Electrolytes to the blood stream.
Replacement is essential!
Eidon Liquid Minerals are All Natural, Highly Bioavailable and contain NO sugars, starch, artificial flavors, colors, preservatives or animal by-products. Vegan and Gluten-Free. Eidon uses the finest ingredients known to us in the formulation of our unique preparations. Out of respect for all life, we do not test - nor have we ever tested - our products on animals.
Obtaining the needed minerals via the food we eat is a chronic problem today. This is primarily due to our deficient soils and over processing and over cooking of our foods. Drinking ultra-purified water can also strip our body of these essential minerals. It is important to be aware of the fact that reverse osmosis and distilled water will actually act in reverse of what nature intended our water to do. Instead of being a mineral delivery system, the minerals are taken out of the water and this puts additional stress on the body tissue to compensate for the lack of minerals in the water. The minerals must then be taken from our healthy reserves in bone and muscle, thus leaving our system deficient and vulnerable. Replacement is essential!
Information on this site is provided for informational purposes and is not meant to substitute for the advice provided by your own physician or other medical professional. You should not use the information contained herein for diagnosing or treating a health problem or disease. If you have or suspect that you have a medical problem, contact your health care provider. Information and statements regarding dietary supplements have not been evaluated by the Food and Drug Administration and are not intended to diagnose, treat, cure, or prevent any disease.
Write Review
This makes the water taste good

Posted by Samantha V. on 2nd Aug 2017

I drink a lot of water, so I like to have electrolytes around. This is so much better than powders or tabs. I really notice a difference in the brightness of my eyes, my energy and digestion. It feels like my body truly gets hydrated and can flush everything out. There is no sugar, or excess synthetic vitamins, or too much sodium like other electrolyte formulations I've tried. This makes the water taste good - like mineral water straight from a spring. I would really recommend this. Good for when exercising etc. I normally only use it in one water bottle worth per day. Will order again

Works for post weigh-ins

Posted by Patrick on 2nd Aug 2017

I use it for my athletes post weigh- in for competitions to replenish their hydration. I just mix it with some sort of flavored drink and just add in a few tbps of Eidon Electrolytes. Great results!

A staple in our medicine cabinet

Posted by Familyof5 on 2nd Aug 2017

We don't use this one as often as the Immune Support drops, but I like to have it on hand in case the children become ill etc. It's much better to give them these drops in some juice (or juice & coconut water) than to give them electrolytes from a chemist!

Helps lessen my thirst!

Posted by Sue on 2nd Aug 2017

Simple, easy to use. Just add the drops to my water each evening before bed. Thanks!

Handy And Effective

Posted by David on 2nd Aug 2017

Great, convenient product to have. Effective and good that it has no sugar. Handy to have and use when electrolytes are needed. These are the best electrolytes I have found.

Eidon is the brand I prefer for Electrolytes

Posted by AC on 26th Jul 2017

Excellent product, contains exactly as described and provides you with more information on the uses of electrolytes. This is my fourth bottle from the Eidon company. I appreciate the fact they don't overdo it on cheaper calcium carbonate. And it has a very neutral taste. Plus I didn't like the extra Vit. C included in packaged drinks or the addition of sugar. This product contains no sugar.

(Originally posted on 10/12/2016)

Item as described

Posted by Lisa Sutter on 26th Jul 2017

Item as described, Fast shipping, A++++

Fantastic

Posted by Patricia A. Baker on 26th Jul 2017

Fantastic, I get terrible leg cramps and a half dropper full in a couple ounces of water once a day and I rarely if ever get them any more and if I do they are not nearly as painful!

(Originally posted on 08/15/2016)

Highly Recommended

Posted by Eric on 26th Jul 2017

I came across this product because of severe leg cramps in the mornings... Terrible Charlie Horses that I wouldn't wish on my neighbor with the rooster and barking dogs. I went to the doctor about my calves cramping and he recommended this product. When I drink water to stay hydrated, it comes through my water filter and into my glass, but without a single electrolyte. My filtered water, my medications and my general lifestyle (alcohol included) was stripping the electrolytes right out of me. After a couple of days of using this product I haven't had any leg cramps since. I feel incredibly fortunate to be relieved of the suffering. Now I use it to make electrolyte water to carry with me. You just need a few drops and it's basically tasteless since there is no sugar or flavorings like in Gatorade or Pedialyte.

The Doctor recommended Gatorade - I found this...

Posted by cvairag on 26th Jul 2017

Best Electrolyte product I have found, bar none. Solved a critical electrolyte imbalance for me. Miraculous stuff really.

(Originally posted on 04/11/2016)

No taste, big punch

Posted by Jules on 16th Mar 2016

Adding a dropper full to my daily water has made a huge difference in balancing my electrolytes while on a ketogenic diet. No Ketoflu for me!